" My keyp conveniently carries my cards and keys. I have lost my keys twice in the past and now I don't have to worry about it. "
- Brayan N.
Say goodbye to your bulky wallet! The Keyp denim phone wallet is the perfect way to keep your essentials close at hand.
This attachable wallet is secure with the most quality materials, and is hand-made here in the USA.
Your Keyp wallet can be used with any smart phone with a 4-inch LCD screen or larger, and is flexible enough to hold up to 10 keys and multiple cards.
This minimalist, sleek design is made with high-quality denim to ensure both security and full comfort in the palm of your hand.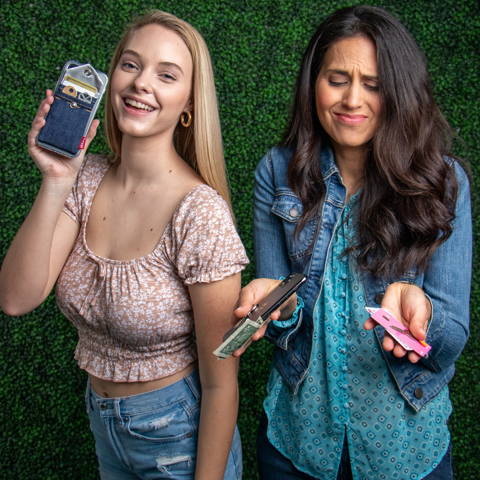 ARE YOUR MOST VALUABLE ITEMS SAFE?
Other card holders may not be as safe as you think, and not having the proper storage for your essential items may be putting them at risk.
Designed with stye & function in mind, the Keyp denim phone wallet is the perfect way to keep your keys, cards, IDs, and cash close at hand. Conveniently attach this stick on wallet to your phone and you will never have to carry your wallet and keyholder separately again!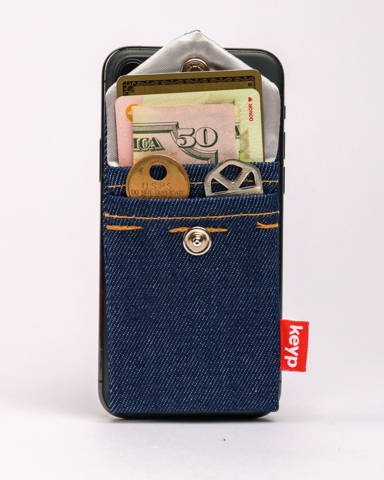 NEVER LOSE YOUR ESSENTIAL ITEMS AGAIN
The Keyp attachable wallet sticks directly onto your cellphone or phone case and has a front pocket specifically designed for keys and a back pocket for cards and cash to keep your daily essentials separate and organized. It's the perfect solution if you're always losing your house keys and other valuables.
Frequently Asked Questions

KEYP holds up to 7-10 credit cards and 4 keys comfortably and conveniently on the back of your phone.
Q: Is Keyp a quality product?

Keyp is hand-stitched using only the best quality and most comfortable and is proudly made in the USA.
Q: What is our money-back guarantee?

We want you to be 100% satisfied. If you're not 100% delighted with your purchase of Keyp, we will give you a full refund - that means you have nothing to lose!
Q: How long is shipping times?
We ship securely through USPS and expect a 4-6 day delivery time.